What to Pack for a Vacation
What should I pack in my suitcase for a vacation? There is no universal response to this question. It all depends… Will you be traveling by air or by another method of transportation? Where and when are you going? How long will you be away? What types of activities will you be doing? Once these questions have been answered, coming up with a packing list will be easy.
With airlines charging fees for checked and, in some cases, carry-on luggage, it's important for the air traveler to pack just the right stuff and right amount of it. Many airlines charge for each suitcase, and others are strictly limiting the size and number of carry-on pieces. Check with your carrier to make sure you know what you are allowed to bring. No one wants the bargain vacation of a lifetime to become a real budget buster.
For those who must decide what to bring on a vacation to the Caribbean or some other beach destination, packing a limited number of lightweight clothes is best. But for most places, the season and climate must be considered, too. What to pack for a Florida or Bahamas vacation depends on the specific destination and season. What to bring for a Disney or Nassau vacation in July differs from what to bring in January.
Similarly, what to wear on a vacation to Italy would differ according to whether it includes a visit to churches or is strictly a getaway to a Riviera Beach resort. Packing for a trip to a remote location anywhere in the world with limited shopping possibilities and medical facilities requires special attention to packing enough medications and a sufficient supply of the personal items that are indispensable.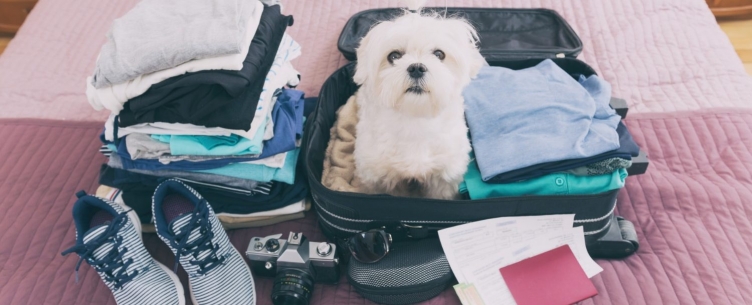 Men's clothing, accessories and necessities.
Belts
Casual shirts
Dress shoes
Dress shirt(s)
Pajamas/robe
Pants
Rain and/or sun hat
Sandals/flip flops
Shorts
Slippers
Sneakers/athletic shoes
Sports jacket
Swim wear
Tie
T-shirts/undershirts
Women's clothing, accessories and necessities
Bathing suit and cover up
Bras and panties
Jewelry, unless you have insurance, consider costume jewlery only.
Dresses
Dress Shoes
Big scarf or light shawl
Lingerie and robe
Makeup
Sandals or flip flops
Shirts/blouses
Shorts/Capri pants
Skirt(s)
Slacks
Slip/body slimmer
Slippers
Sneakers/athletic/walking shoes
Socks and pantyhose
Sweater or Jacket
Tampons,pads
Personl item checklist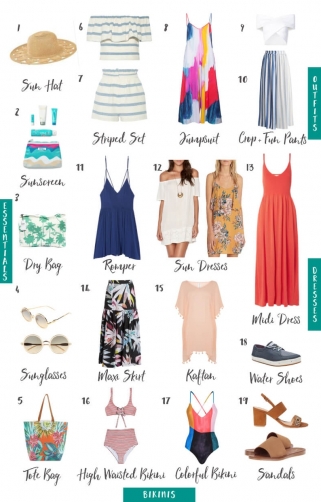 Antacid Anti-diarrheal medication
Birth control
Bug repellent
Cash - small amount
Chewing gum or mints
Comb and/or Brush
Documents - passport, driver's license, travel tickets, credit cards
Electronics - Cell phone and charger, digital camera and charger or batteries, laptop
Eyeglasses, contact lenses
First aid kit
Flashlight (small LED) and batteries
Folding umbrella
Laundry detergent packets
Lip Balm with SPF
Over the counter items - vitamins, supplements
Painrelievers - pills and topical
Prescription medications
Shampoo, conditioner
Sunglasses
Sunscreen
Shaving needs
Soap
Toothbrush and toothpaste
Most of the items on the above lists would also apply for very young travelers. In addition, a baby would need diapers, changing pads and wipes, pacifiers, bottles, diaper rash ointment, jarred food and whatever else it takes to get through many typical days. But if you are traveling with little kids, unless you want to spend your whole vacation doing laundry, bring along extra clothes for them. Also, pack some small surprises in your suitcase. A new, tiny stuffed animal can turn a screaming child into a happy traveler.
When traveling to cooler climates, you must dress and pack accordingly. An extra sweater, a warm hat and gloves, and a water-resistant jacket or coat should be included.
Packing tips
Carry-on bag(s) - This is your survival kit. Airlines sometimes lose or misplace luggage. Everything needed to get you through at least two days and nights should be in your hands as you board and later leave the plane. That includes prescription drugs, over-the-counter medications, eyeglasses/contacts, cash, credit cards, personal electronics and a complete change of clothes.
Food - For diabetics and travelers with small children, make sure you take along some appropriate snacks, enough to adequately sustain you and/or your kids for several hours. Flight delays can turn you into a virtual plane prisoner, stuck on a runway during a ground stop, with nothing to eat.
Mix and match - Coordinate colors. Pick clothes to pack that go together in assorted ways. One basic black skirt or pair of pants can be paired with just about any color/pattern shirt to make several, attractive, outfit combinations.
Leave some space - There are at least two good reasons not to over stuff your suitcase. The first is that neatly folded (clean) clothes take up less room than bunched-up dirty clothes. It will be more difficult to jam everything back into the suitcase when it is time to go home. The second reason is that you might find and fall in love with a sweatshirt or other bulky item during your vacation. You'll need suitcase space to get your treasure home.
How to pack - Use plastic grocery bags for shoes and slippers, and place these hard items in suitcase corners. Neatly fold shirts and place each one in a clear plastic bag. Pack large items like suits and dresses in plastic or thin nylon (garment) bags and place them on top of all of the other clothes in the suitcase. That way, the last items in will be the first items out. This will cut down on wrinkles. Hanging suits and dresses in a steamy bathroom for a while will get rid of those travel wrinkles.
Special interests - If you expect to be playing tennis, golf or any other competitive sport, by all means bring along the clothes that will give you the winning edge. For those who are planning a seaside vacation to a shell filled beach, a pair of beach shoes will spare your sensitive soles.
contact home owners directly and book your perfect holiday accomodation.